This fact box will help you to weigh the benefits and harms of the combined whooping cough booster vaccine for adolescents and adults. The information and numbers are based on the best scientific evidence currently available.
This fact box was developed by the Harding Center for Risk Literacy.
What is whooping cough?
Whooping cough (pertussis) is a highly contagious respiratory disease caused by the bacterium Bordetella pertussis. In contrast to other diseases for which vaccinations are available, whooping cough cannot be eliminated entirely. In adolescents and adults, pertussis mainly causes influenza-like symptoms such as rhinitis, fatigue, and sometimes fever together with a cough lasting for several weeks. It can be spread to other persons by sneezing, speaking, or coughing. Even vaccinated people who do not develop symptoms can unknowingly be contagious for a short time after contact with an infected person. Furthermore, immunity after vaccination is of limited duration, meaning that an infection or a re-infection after having had the disease are possible despite being vaccinated. Infants and small children are particularly at risk when getting whooping cough as it may be life-threatening for them. Very rare but dreaded complications, especially for babies up to six months of age, are pneumonia, seizures, brain damage through lack of oxygen, and, in extreme cases, death by asphyxiation [9].
What is the combined whooping cough booster vaccine?
Vaccinating against whooping cough is usually done together with a combination vaccine against tetanus and diphtheria (Tdap). A vaccine solely against whooping cough is no longer available in Germany. It is possible, however, to vaccinate against it and polio (Poliomyelitis; IPV) simultaneously (Tdap-IPV) [9, 10].
Who might consider the combined booster vaccine?
The German Standing Committee on Vaccination (STIKO) recommends refreshing vaccinations against tetanus and diphtheria every 10 years. When the next vaccination against these is due, adults can also request a one-time pertussis boost simultaneously [9].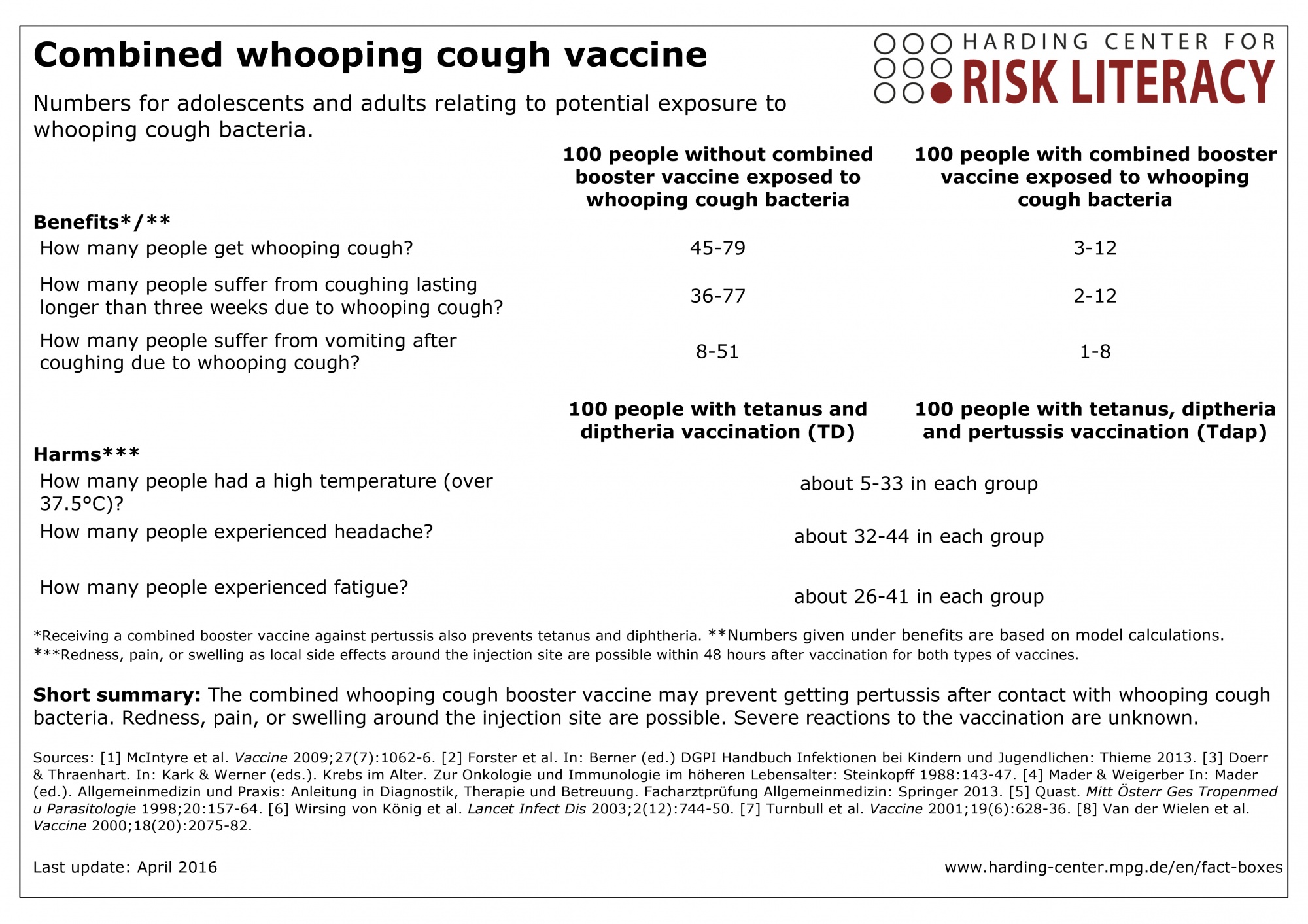 What does the fact box show?
The fact box shows model-based numbers for the benefits of a combined whooping cough booster vaccine for adolescents and adults compared to unvaccinated people exposed to whooping cough bacteria. In the harms section, the side effects of the tetanus and diphtheria vaccination are compared to the tetanus, diphtheria, and whooping cough vaccination.
The table may be read as follows:
If 100 adolescents and adults without a combined booster vaccination came in contact with the whooping cough bacterium, about 45 to 79 of these people would fall ill. By contrast, if 100 vaccinated people came in contact with the bacterium, 3 to 12 of them would fall ill.
There are no relevant differences between the side effects of the combination vaccine against tetanus and diphtheria and the side effects of the triple vaccine against tetanus, diphtheria, and whooping cough. About 5 to 33 of 100 adults with either vaccine had a higher temperature.
The numbers in the fact box are rounded. The data in the benefits section on the frequency of disease are based among others on cumulative data from clinical practice. This includes information from physicians and from textbooks on contagion indices (share of the infected among those in contact with the bacterium) and manifestation indices (share of symptomatically ill among those infected), for which no current patient studies are available. The data based on clinical practice do not necessarily correspond to changes in the health condition of the current population and to all vaccines offered in Germany [1-6].
The data on harms are based on two randomized controlled trials with 1,000 participants overall [7, 8].
What other aspects should be considered?
The likelihood of contact with a bacterium depends on many factors, such as the number of vaccinated people in the population and the opportunities for the bacterium to spread. Contacts with the pathogen decrease when a majority of a vaccinated population hinder the bacterium from spreading (herd immunity).
Additional information: According to laboratory results, immunity after the booster vaccine is assumed to last for at least 5 years [1]. Even with the booster vaccine, it is possible to get whooping cough [11]. Furthermore, a prior infection does not protect from getting whooping cough again [9].
Do the results provide proof (evidence) for the benefits and harms of the vaccination?
The overall evidence is of moderate quality. The contagion and manifestation indices have not been investigated in adequate randomized controlled trials. However, the degree of effectivity of the vaccine across several populations has been validated using different study designs.
Thus, there is evidence that whooping cough symptoms are reduced among vaccinated people in comparison to unvaccinated people. The data on harms are based on two randomized controlled trials.
Version history of the fact box
Sources
Information within the fact box was obtained from the following sources:
[1] McIntyre PB, Burgess MA, Egan A, et al. Booster vaccination of adults with reduced-antigen-content diphtheria, tetanus and pertussis vaccine: immunogenicity 5 years post-vaccination. Vaccine2009;27(7):1062-6.
[2] Forster J, Bialek R, Borte M. Infektionen bei Kindern und Jugendlichen. In: Berner, R, ed. DGPI Handbuch Infektionen bei Kindern und Jugendlichen: Thieme 2013.
[3] Doerr HW, Thraenhart O. Impfungen und Impfprobleme bei alten Menschen. In: Kark B, Werner H, eds. Krebs im Alter. Zur Onkologie und Immunologie im höheren Lebensalter: Steinkopff 1988:143-47.
[4] Mader FH, Weigerber H. In: Mader FH, eds. Allgemeinmedizin und Praxis: Anleitung in Diagnostik, Therapie und Betreuung. Facharztprüfung Allgemeinmedizin: Springer 2013.
[5] Quast U. Nebenwirkungen nach Impfungen – ein Überblick. Mitt Österr Ges Tropenmed u Parasitologie 1998;20:157-64.
[6] Wirsing von König CH, Halperin S, Riffelmann M, et al. Pertussis of adults and infants. Lancet Infect Dis 2003;2(12):744-50.
[7] Turnbull FM, Heath TC, Jalaludin BB, et al. A randomized trial of two acellular pertussis vaccines (dTpa and pa) and a licensed diphtheria-tetanus vaccine (Td) in adults. Vaccine 2001;19(6):628-36.
[8] Van der Wielen M, Van Damme P, Joossens E, et al. A randomised controlled trial with a diphtheria-tetanus-acellular pertussis (dTpa) vaccine in adults. Vaccine 2000;18(20):2075-82.
[9] Robert Koch-Institut. Keuchhusten (Pertussis). RKI-Ratgeber für Ärzte 2014 [Available from: www.rki.de/DE/Content/Infekt/EpidBull/Merkblaetter/Ratgeber_Pertussis.html
[10] Paul-Ehrlich-Institut. Liste zugelassener Impfstoffe gegen Diphtherie 2016 [Available from: https://www.pei.de/DE/arzneimittel/impfstoffe/diphtherie/diphtherie-node.html]
[11] Ward JI, Cherry JD, Chang S-J, et al. Bordetella Pertussis infections in vaccinated and unvaccinated adolescents and adults, as assessed in a national prospective randomized Acellular Pertussis Vaccine Trial (APERT). Clin Infect Dis 2006;43(2):151-57.
Documentation on how the numbers in the fact box were determined is available on request.